At Rehab Bar & Grill, there's no pressure to be anything but yourself! At this laid back Grove bar, we are all about laughter, frivolity, and fun, so check the attitude at the door!! A little bit country, a little bit rock & roll, we like hip hop, and have a whole lot of soul! This is your home away from home. Welcome to your 'Cheers'
---
This has been a very hard decision for us, but we need to do what is necessary to keep our employees and customers safe.
For those of you who do not agree with our decision, we understand, but hope to see you soon when this is all over!!
Please stay safe for those you love and those who love you!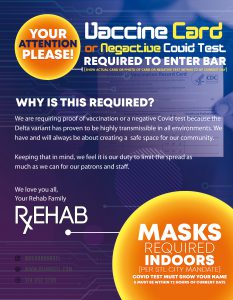 ---
We have gift cards available for purchase online. You don't need to leave the comforts of your own home to give someone the gift of a night out on you. Send a card for $5.00, $50.00, or $500.00…it's all up to you! All the while you're supporting our small business with your purchase.
 Click here to purchase your gift card today!